The Hydra 2 is a custom made 6U server case for high density GPU mining using 8 or 6 cards, without the unwanted air leak of open frames. This case supports eight full-length graphics cards, one ATX/Micro-ATX motherboard, and two power supplies for better power distribution. Cube-like design elevates the graphics cards above the motherboard and power supplies, helping you keep the cables organized underneath and out of critical airflow paths. The front railing where the GPUs mount can be switched from 8x to 6x mounting holes when only using 6 GPUs. Thick industrial quality steel offers outstanding strength and durability to hold all your cards without flexing for safer storage and transport. This 6U server case is capable of being stacked and rack mounted. Extended distance from GPU to MB requires the use of PCI-E risers.
This is the best enclosure type for high-performance number crunching machines that generate a ton of heat. Its closed cabinet provides a critical function of active airflow management (front-to-back) to prevent hot exhaust air from circulating back into the equipment air intake. Up to 6 x 120mm high rpm server fans can be installed.
NANOXIA USA RETURN AND REFUND POLICY

Our refund policy lasts 45 days from the date of your purchase. If 45 days have gone by since your purchase date, unfortunately we can't offer you a refund. To be eligible for a refund, item must be unused and in the same condition that you received it. It must also be in the original packaging and includes all accessories. We can only issue refunds for items that were purchased directly with us and not from other retailers.

CANCELLATIONS

An order can only be cancelled if the shipment has not yet been confirmed. Once an order has been shipped, you may contact us to return the item for refund. We ship most orders within 24 hours.

NON-REFUNDABLE

Item that is damaged, missing parts, not in the original condition, have obvious signs of use for reasons not due to our error, or returned later than 30 days after an RMA number has been issued will not be accepted for return. Please note that in some situations, buyers could be responsible for return shipping and any applicable restocking fees can be deducted from the refund. Returns that are out of policy may be refused or charged a restocking fee of up to 25%.

HOW TO RETURN ITEMS FOR REFUND

Step 1 Submit your return request to support@nanoxiausa.com. Provide a copy of the purchase receipt/invoice, and details of return reason.

Step 2 A support agent will reply with RMA number and shipping label. Properly pack the product for shipping. Product returned damaged or without an RMA number may be refused. Send the return package to:

Nanoxia USA RMA#_____
17560 Rowland Street, Dock 4-10
City of Industry, CA 91748

Step 3 Once your return package is received and inspected, a refund will be processed and applied to your original method of payment within 2-3 business days.

OPEN BOX

Items marked as "open box" are products that were purchased and delivered to other customers, and then returned to Nanoxia. Due to the varying quality of items returned, Nanoxia only guarantees that you will receive the item itself, accessories and original packaging may not be included. Nanoxia tests open box items for basic functionality only. Open box items may show visible blemish (i.e. scratch) or damage (i.e. dent) as a result of it having been previously used. Open box items are sold considerably under cost, and are sold as is, with no refund/exchanges/replacements or warranty. Please purchase open box items only if you know how to deal with potential missing accessories, visible blemishes, and/or damages.

PRE-ORDER

We occasionally allow pre-orders for an item before it gets in stock. Just look for the Pre-Order button where you normally see Add To Cart. Items marked as "pre-order" are available for immediate purchase, but will be shipped at a later date. An estimated shipping date is indicated on the product page. Whenever you pre-order an item, the price we charge will be the lowest price offered between the time you placed your order and the day item is shipped.

STORE CREDIT

Store credit may be given in lieu of a refund when we are unable to reimburse you for returned items in the same way you paid for them. Store credit cannot be redeemed for cash. On the check out page, you can choose whether to use your available store credit in lieu of other payment.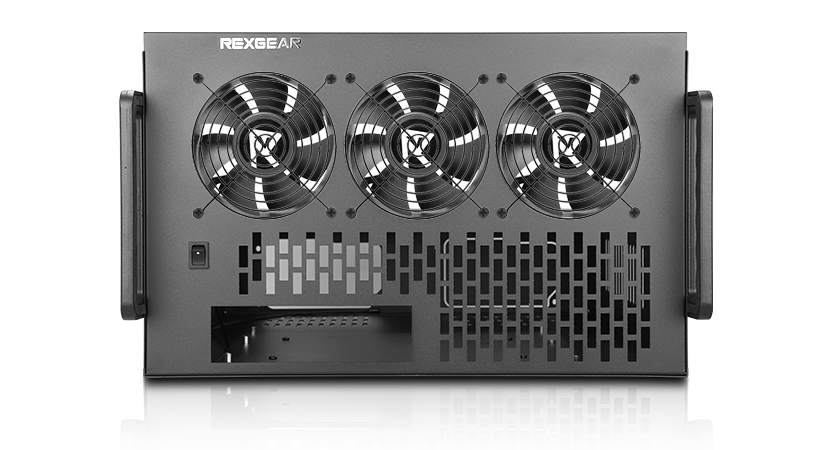 Keep The Cables Out of Crtical Airflow Paths
The Hydra II has been designed with a front-to-back airflow. By strategically placing the cards above the motherboard and power supplies, your components all receive a proper amount of cold air and are able to operate at their full potential.


Critical active air flow management
Optimized for Aftermarket GPU
Up to 8 Dual Slot Cards or 6 Triple Slot Cards
Aftermarket cards tend to be taller around 140 to 150 mm, and some are longer around 300 to 330 mm. Most do not have recessed power connectors and require extra room for those cables. The Hydra II has taken into account all these details to ensure everything fits. You can fit up to 8 dual slot cards or 6 triple slot cards.


---
Designed for 8 dual slot aftermarket cards with bigger PCB/cooler up to 330 mm length and 150 mm height.
Easily install large cards of different heights and lengths; Brackets switch from 8 to 6 mounting patterns when only using 6 cards.
Elevates your cards above the motherboard and power supplies, and keeps the cables out of critical airflow paths.
270 x 430 x 500 mm (without rack ears)
---
---
---
---
Front: (x3) 120mm
Back: (x3) 120mm
---
(x1) Mounting bracket for 8 or 6 GPU
(x2) Aluminum handles
(x6) 120mm fan grills
(x1) Power switch
(x8) Rubber vibration isolator for two PSU
(x4) Rubber vibration isolator for case stand
(x1) Bag of screws for PSU, MB, HDD, SSD, Fans, cable ties and nut setter for MB standoff
---


Bag of Screws for PSU, MB, HDD/SSD, and Fans


Rubber Vibration Isolator for Chassis

Rubber Vibration Isolator for PSU